Chiropractic is a safe, natural form of healthcare that focuses on the restoration and preservation of the body's musculoskeletal system. A chiropractic professional is trained to diagnose and treat disorders in the body's muscles, joints, bones, and connective tissue.
According to the American Chiropractic Association, "about 31 million Americans experience low-back pain at any given time." Studies show that chiropractic care can be more effective than pain medication as a treatment option for low-back pain. Through spinal manipulation, chiropractors are able to reduce pain, decrease the use of medication, and assist in the maintenance and prevention of further injury.
At Solutions Chiropractic, we offer a thorough exam and utilize gentle and effective adjustment techniques to reduce your pain and suffering. We can also make recommendations with regard to diet and nutrition, exercise, and other factors that will aid in the recovery from your injury or disorder. It has been proven that chiropractic care can reduce your healthcare spending by offering alternative treatment options to medication and/or surgery.
Massage is defined as the rubbing and kneading of muscles and joints of the body and hands as a means of relieving tension and pain and stimulate circulation. Massage techniques can vary from light stroking to deep pressure.
Why offer massage therapy with chiropractic care?
Chiropractic care, when combined with the benefits massage therapy, can be more effective and longer lasting than chiropractic alone. When subluxation, or misalignment of bones, joints, and vertebra occurs, the muscles become tense. Massage therapy can aid in the reduction of muscle tension, stress, and pain and allow the manipulation of the musculoskeletal system to occur much more easily.
Benefits of Massage Therapy
There are many benefits of massage including:
Stress relief
Relaxation
Improvements in circulation
Lower blood pressure
Improved flexibility and range of motion
Strengthens the immune system
Pain relief
Different types of massage:
Swedish Massage –  This is a more gentle form of massage using long strokes, kneading, and tapping to help relax and energize.
Deep Tissue Massage – This technique targets the deeper layers of the muscle and connective tissue and uses more forceful strokes.
Sports Massage – Similar to Swedish Massage, this technique is more focused on sports activities to treat and prevent injuries.
Trigger Point Massage – This massage focuses on very specific areas of tight muscle fibers that form in muscles due to injuries.
We have multiple massage therapists with appointments six days a week.
30 minutes for $40
60 minutes for $75
90 minutes for $105
For Fascia blasting add 30 minutes to the massage.
Cupping by massage therapist
Fascia blasting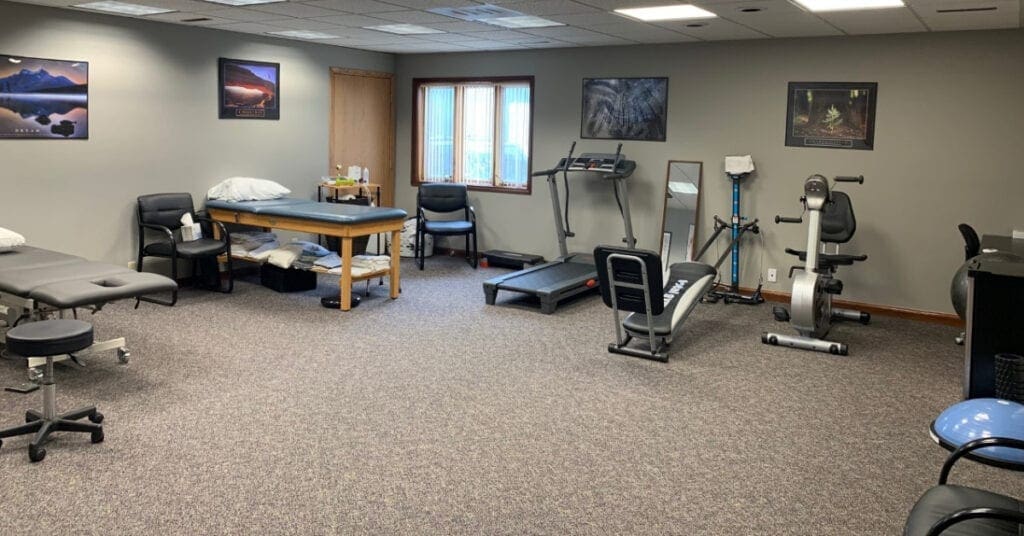 Physical therapy addresses movement impairments and works to help people improve and maintain function and quality of life.
Here at Solutions Chiropractic you will work one-on-one with your physical therapist who will create an individual treatment plan to match your goals, help you to improve your fitness, function, and avoid surgery, or successfully recover from surgery.
Orthopedic physical therapy is the diagnosis, management, and prevention of musculoskeletal disorders. Physical therapists are experts in the assessment of movement and can help individuals move better, often with less pain, through skilled manual therapy, therapeutic exercise, and patient education.
Conditions Managed by Orthopedic Physical Therapists
Low back and neck pain
Rotator cuff injuries and other shoulder problems
Plantar fasciitis
Post-operative rehabilitation from orthopedic surgical procedures
Muscle strains
Joint sprains/pain/swelling, including knee and ankle injuries
Tennis/golfer's elbow
Manual Therapy including:
IASTYM (Instrument Assisted Soft Tissue Mobilization)
Tendons and muscles can become inflamed when injured or used repetitively. Often these injuries do not heal properly, leaving degenerated tissue that is not able to perform the required tasks. These soft tissue injuries can often result in chronic and recurring pain.
Common Soft Tissue Conditions:
The following are some of the many diagnoses that demonstrate excellent clinical results when treated with IASTYM
Achilles tendinopathy
Ankle sprain
Carpal tunnel syndrome
Golfer's elbow (medial epicondylosis)
Hamstring strain
Impingement/tendinopathy of the rotator cuff
IT band syndrome
Joint contractures
Jumper's knee (patellar tendinopathy)
Neck and Back
Sprain/Strain
Overuse injuries
Pain or loss of motion following surgery or trauma
Plantar fasciopathy/heel spurs
Scar tissue/adhesions
Shin splints
Tennis elbow (lateral epicondylosis)
Wrist sprain
Dry Needling Exercises: to specifically targeted muscle groups